"WHALE SHARK: OBSERVE, DO NOT TOUCH"
This is what WWF Mexico and GVI want to teach local and foreign tourism before hiring any company that offers them the experience of swimming with the majestic whale sharks. Its objective is to educate and create awareness around this activity that attracts thousands of people each year to the warm waters of the Mexican Caribbean, and that, if basic rules of conduct are not established, the integrity and tranquility of this species could be endangered.
The rules are very simple, applicable to both operators and customers:
1. Use life jacket
2. Minimum distance between swimmer and whale shark: 5 meters
3. Mandatory guide
4. Minimum distance between boat and shark: 10 meters
5. Controlled entry to water
6. DO NOT TOUCH the whale shark
7. Do not dive
8. Do not use sunscreens or oils
9. Do not jump into the water from the boat
10. Do not use flash
11. Do not fish
12. Do not litter
13. Do not take away organisms
14. Do not hit or touch corals
15. Do not feed the fish
In this way and offering a series of informative talks in the centers of underwater activities of Playa del Carmen and Cancun, WWF Mexico and GVI are committed to society so that, together, we preserve and take care of the ecosystem of the largest fish in the ocean: the whale shark.
On July 12, 2014 at 10:00 am, Phantom Divers, committed to the conservation of the environment for this and future generations, will host one of the informative sessions of WWF Mexico and GVI.
Everyone is invited!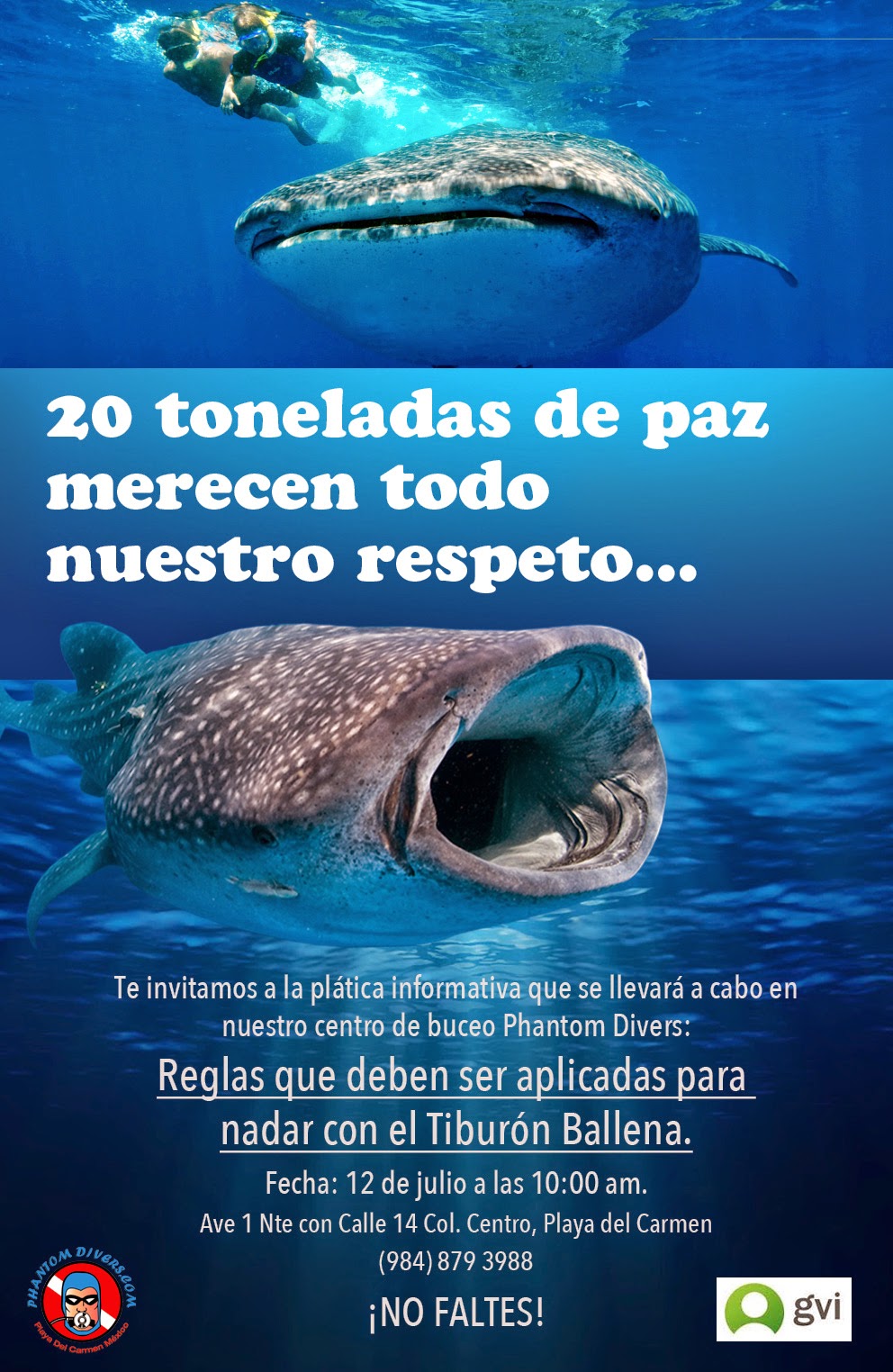 More reports:
www.phantomdivers.com
info@phantomdivers.com
(984) 879 3988
The post "To meet the elegant Whale Shark, you need good manners": WWF appeared first on Phantom Divers.