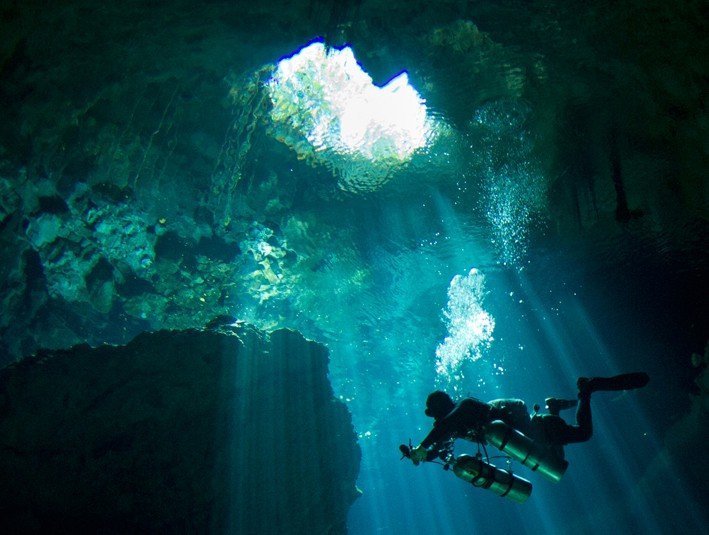 DIVE IN CENOTE
Cenotes are flooded cavern systems formed by the typical crystalline underground rivers of the region.  In these places you have the option of cavern diving where you will enjoy amazing stalactites, stalagmites and marine fossils. With a visibility of over 50 meters, the cenotes are a singular point of attraction and a must-do for any diver.
DETAILS
INCLUDES:
  1. Transportation Playa del Carmen / Cenotes
  2. Full cave certified guide
  3. Admission fees
  4. Beverages
  5. Lunchbox.
CATEGORY A:
Two dives in one cenote diving through 2 different lines.
Tajma Ha: Shallow and crystal-clear water.
Muyal – Ha: You will be able to see a sulfuric cloud at the bottom similar to the one found in Angelita. This experience is made for unconventional divers!
CATEGORY B:
Dos Ojos: Semi-open cenote located 55km south of Playa del Carmen.
Two lines to dive full of stalactites and stalagmites. Since this cenote is not an open cenote it is a little dark, but the water is crystal clear so just turn your light on an enjoy.
Dream Gate: Semi-open cenote with two different lines to dive, both full of very fine stalactites and columns. You will be able to see roots of jungle trees reaching the water, lots of rock formations and halocline (where freshwater and saltwater mix).
*Excellent buoyancy control is required for this cenote due to the cavern's delicate formations and sedimented floor.
CATEGORY C:
Two cavern dives in 2 two different Cenotes (1 deep cenote + 1 shallow cenote). For this tour we require at least 4 experienced divers.
El Pit + Dos Ojos / El Pit + Nicte Ha / Dos Ojos + Nicte Ha (drift dive cenote).
Angelita + Car Wash (Aktun Ha) / Angelita + Casa Cenote / Angelita + Tajma Ha.
* Angelita and The Pit are two of the favorite cenotes in the area; some divers reefer to them as heaven and hell due to the colors you find in each. When the sun is up at The Pit you can see incredible rays of light from the surface to the bottom giving the cenote different tones of blue. At the middle you will also find the halocline, where the fresh and salt water mix. On the other hand, cenote Angelita has a mystical vibe when you reach the sulfuric cloud and the colors start to change from blue to green, yellow and orange underneath the cloud. This is definitely an experience that experienced divers can´t miss.

SCHEDULE:
Check in 8:30 am – 2:00-3:00 pm depending on the Cenote
2 TANKS CENOTES
Category A: $2800 MXN             (Non-diver: $1500 MXN)
Category B: $3600 MXN             (Non-diver: $1700 MXN)
Category C: $4000 MXN             (Non-diver: $1900 MXN) MIN. 4 PAX
Rental Equipment: $500 MXN