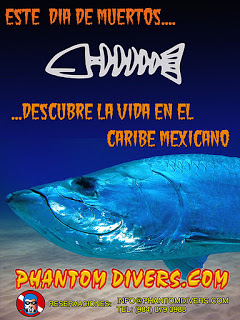 The time has come for them to put their skull on the altar,
remember your loved ones who crossed the bridge and
go diving in the Mexican Caribbean in their honors.
How about diving a sunken ship in the morning and doing a night dive
enjoying the mysteries of the night and the dark sea.
As a Mexican company we have our traditions to the surface,
Come and enjoy the beautiful turquoise sea in the Mexican Caribbean with PHANTOM DIVERS, RIVIERA MAYA, MEXICO.
The post SKULLS, DEMONS AND FUN WITH PHANTOM DIVERS! appeared first on Phantom Divers.