MORE ADVANCES IN THE PROJECT OF MARKING OF TIBURON TORO IN THE STATE OF QUINTANA ROO, MEXICO.
Text written by Laura Torres
Reviewed by: Biol. Mauricio Hoyos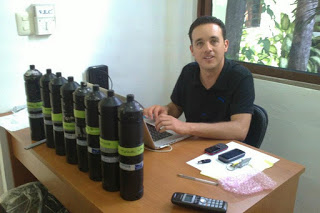 In this photo: Biol. Mauricio Hoyos writing report.
Recently we received the visit of the renowned biologist Mauricio Hoyos for the start of the bull shark marking project.
One of the main objectives is to obtain 30 biopsies that will be used to carry out studies of genetics and stable isotopes.
The aim of the genetic studies is to determine if the population that visits Playa del Carmen is a local population or is related to other areas and through the analysis of stable isotopes will be known more about their diet.
So far a total of 14 biopsies have been obtained, from November 2010 to date.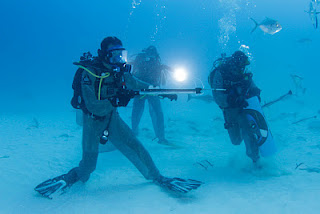 Biol. Mauricio Hoyos taking biopsies of sharks.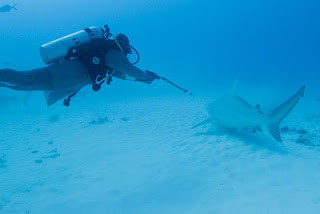 In this study, two types of brands are being used: ultrasonic and satellite.
Ultrasonic marks can be placed internally or externally. Each brand emits an ultrasonic pulse that is below the animal's hearing frequency, so as not to interfere with its natural behavior. The pulse emitted by the brand is detected by a portable receiver (VR100) aboard a vessel to determine which sites remain on a regular basis. Once this zone is determined, a fixed submarine receiver (VR2W) is placed in order to determine its patterns of movement, seasonality and habitat use.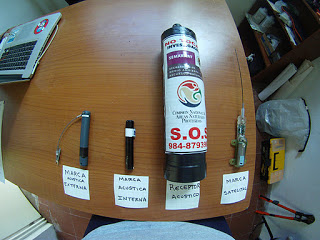 External ultrasonic brand, internal ultrasonic brand, VR2W receiver and satellite brand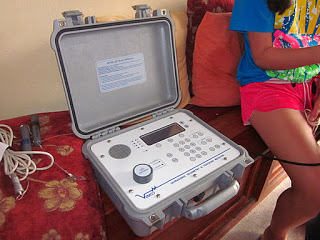 Portable receiver VR100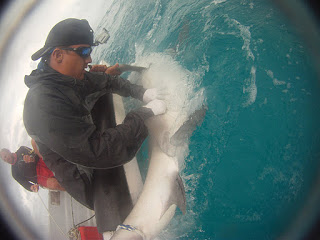 Biol. Mauricio Hoyos placing internal ultrasonic marking.
LOCALIZATION OF SUBMARINE RECEIVERS
Through the submarine receptors, we intend to determine which areas the females use to give birth to their offspring and in what season they do it.
Another objective is to try to support Civil Protection with respect to the recent sightings of sharks on tourist beaches. We will try to determine if there is any seasonality in the presence of sharks in this area, in order to prevent an accident that causes a terrible slaughter of this species as happened in 2011.
With the help of CONANP and RAZONATURA, 3 submarine receivers have been placed in the following areas: Playa del Carmen, Cancún and Punta Allen.
It is scheduled to place 5 more recipients in: Laguna de Yalahau, Chinchorro, Punta Herrero, Xcalac and Bahia de Chetumal.
SPECIAL INDICATIONS
To the divers who find these devices, we kindly ask them NOT TO TOUCH THEM and to warn us if they observe any eventuality that affects the integrity of the device.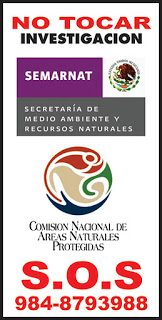 Legend located in the receivers.
SATELLITE MARKS:
The satellite brand we are using, is known as SPOT and has an antenna that sends a satellite signal every time the dorsal fin of the shark breaks the mirror of the water. This signal provides information about its location and serves to know movements on a large scale (migrations).
The first satellite brand was placed on February 1 of this year, we already received the first record, being still in front of Paya del Carmen.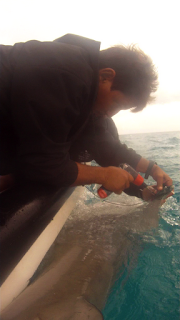 Jorge Loría applying satellite brand.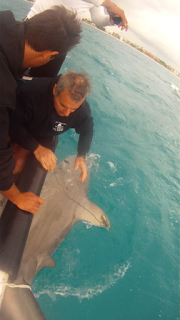 Alex Antoniu checking satellite mark on the dorsal fin of the bull shark.
Through this study we intend to generate information that will serve as a basis for decision makers to make conservation and sustainable management measures of this indispensable species.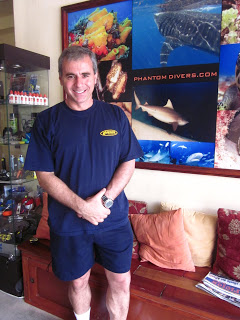 We appreciate the support of Alex Antoniou who heads the NGO "Fins Attached" based in Colorado, United States.
Alex was present with his group of students who dived and met the Toro sharks of Playa del Carmen, providing the first satellite mark of this project.
Be part of the solution with PHANTOM DIVERS, and support the Conservation of one of the most important species of our planet.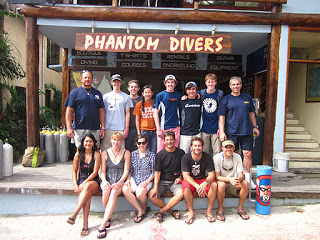 PHOTO OF GROUP "FINS ATTACHED" IN ITS RECENT VISIT TO PHANTOM DIVERS RIVIERA MAYA, MEXICO. January 2012
HOW TO INVOLVE?
We will always need good intentions of preservation and conservation for our planet, in addition to all this, the actions that are carried out will be vital for this project of fruits and positive results that are expected in the future.
DONATIONS: SAVING OUR SHARKS AC (SOS)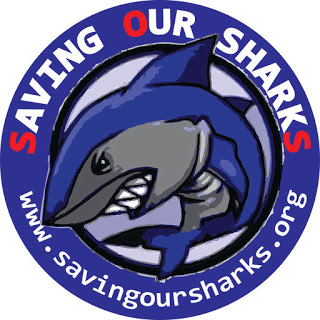 This video shows the process of satellite and ultrasonic marking. Thanks to Mauricio Hoyos and Roberto Navarro (fishing sector) for their valuable help in this project.
The post PROJECT OF MARKING OF TIBURON TORO IN PLAYA DEL CARMEN, MEXICO appeared first on Phantom Divers.