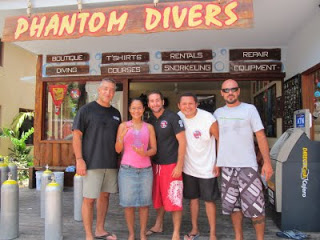 L-R: Robert Sievens PADI REGIONAL MANAGER LATINAMERICA
Laura Torres General Manager Phantom Divers
Carlos Estrabeau, Ramon Magaña and Jose Patron Staff Phantom Divers
Text by Laura Torres.
PADI granted in recent visit of its Regional Manager in Latinamerica an acknowledgment for a great effort and a trajectory in PADI for 10 years.
Although it is well known that since 1983 PHANTOM DIVERS has been established in the Riviera Maya providing diving services and much fun to whoever visits us.
Throughout this time many stories have been formed and have made PHANTOM DIVERS the favorite place for locals and visitors around the world.
Dive shop located in the Riviera Maya, Mexico.
The fantastic weather that accompanies us most of the year has made the Caribbean one of the most visited places in the world.
The diversity of species, the multicolored reefs, the warm waters and a surprising visibility make a set that characterizes one of the best diving areas.
For all those who want to enjoy the Caribbean we have specially designed promotional packages to just enjoy and have fun in the Riviera Maya.
In addition to being an integral diving center, we also participate in projects for the conservation of species and reefs in Playa del Carmen, as is the case of the TIBURON TORO PROJECT and PEZ LEON PROJECT.
Visit us and make your vacation an unforgettable time for a lifetime!
The post PADI grants recognition to Phantom Divers for its trajectory in the Riviera Maya, Mexico appeared first on Phantom Divers.