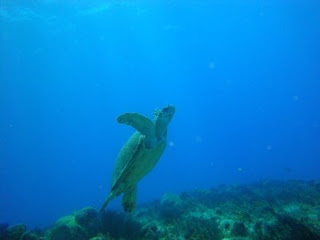 ONE OF THE BEST EXPERIENCES OF MY LIFE IN THE CARIBBEAN!
I confess that I had never dived before and I have to say that this memory will live fully in me. Recently descending past a group of tarpons, they were huge and the sunlight reflected them on the skin, it is lovely to see that these fish behave in the same way as a whole. I only had the sound of my own breathing and the beautiful landscape that surrounded me: the moray eels showed their heads and their eyes followed us without folly. Suddenly I looked up and watched a turtle take off its flight, it was good that it was swimming but it seemed fun to think that it was flying by opening its wings and shaking them gently to move forward. This kind of thing is worth remembering. I do not find better things that occupy my mind most of the time. Diving in the warm Caribbean waters are waiting for you, enjoy this activity that will leave a mark on your memory. Fun, safe diving, dive with PHANTOM DIVERS!
The post MY FIRST DIVING AT PLAYA DEL CARMEN! appeared first on Phantom Divers.