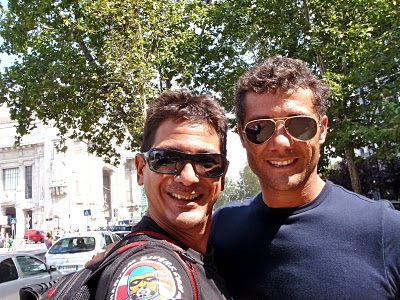 Re encuentro con Homar Leuci.
An example of vigor and persistence.

By: Jorge "Chino" Loria, Dive instructor and owner of Phantom Divers, Riviera Maya, Mexico.
Drafting by Laura Torres.
Last August I had the opportunity to meet a former student, Homar Leuci, of Italian origin, who took his first Padi diving course in 1998 in the Mexican Caribbean with PHANTOM DIVERS. I am very proud to know that one of my students, who shares the same passion of life at sea, its depths and mysteries, has made his profession his own lifestyle. Today, Homar Leuci, based on training, effort, dedication and persistence, has won the title Apnea World Champion in the constant weight modality with monofin with the CMAS agency.
THE CONVERSATION
Once again gathered; Now in Italy, nostalgia made us remember and talk about the old days where we shared several moments together. Several years have passed since we last saw each other and the idea of ​​working on future joint projects comes to me, the main idea of ​​the proposal is that Homar shares his knowledge with those who like to practice this sport in this beautiful Mexican Caribbean. which offers the possibility of witnessing various types of marine fauna.
Homar is currently an Apnea instructor and his teachings can be of high quality motivating for future competitors worldwide. The phrase of the student that exceeds the teacher would lead us to think that if we talk about this globally recognized athlete could create phenomena of a nature that would exceed the current global brands.
PASSION AND VIRTUES.
Someone who discovered his passion by chance and adding the best virtues of a great winner has marked his mark on a global level and will transcend history where future generations will take his example to continue this path that has opened his great vision and skill.
Thank you friend Homar for your great example of vigor and persistence.
Do not miss the track and contact us to be in tune: info@phantomdivers.com
The post Diving in Playa del Carmen, Mexico: Interview with Homar Leuci appeared first on Phantom Divers.