We want to share an article that was published in the magazine Espacio Profundo Digital 124 written by LARN. Ixchel García Carillo de Saving Our Sharks A.C.
Shark means the maximum experience of 590 thousand multinational tourists who interact annually with this legendary oceanic species.
In August 2013, the University of British Columbia published in Oryx magazine, The International Journal of Conservation, the results of its research related to the economic importance of responsible tourism in its form of observation and diving with sharks.
Canadian researchers conclude that globally, the annual income from this activity reaches $ 314 million dollars, and it is expected that this amount will rise to $ 780 million dollars annually in the next twenty years.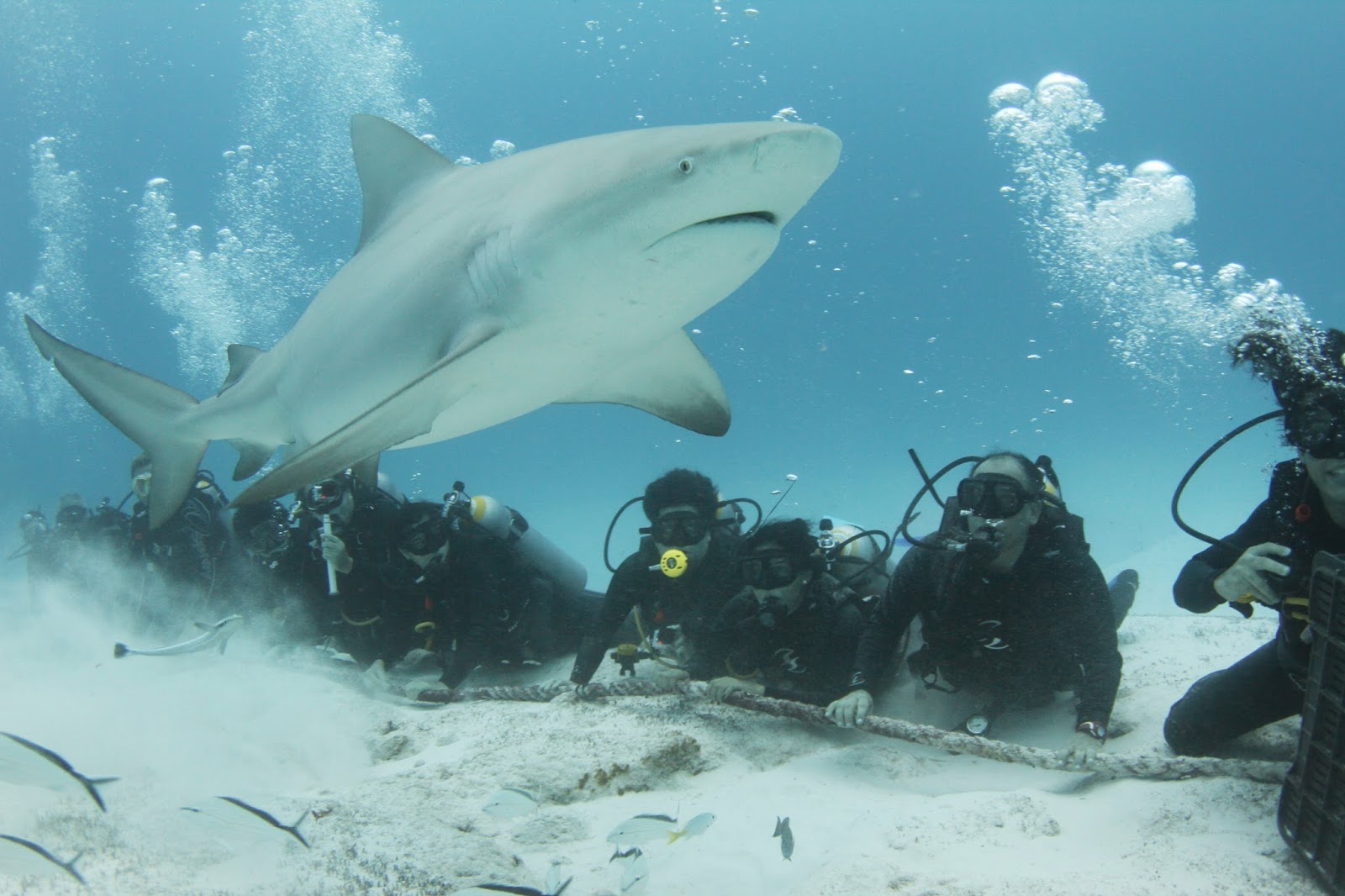 Photo by Jorge Loria
As part of its activities Saving Our Sharks Asociacion Civil organized a workshop on "Diving with Sharks" in which the most renowned diving centers of the region participated, having as special guest and main speaker Mr. Mike Neumann, general director of BEQA Adventure Diversity company of international prestige, dedicated to diving with sharks in the Republic of Fiji.
According to the information provided by Mr. Neumann, sharks are indispensable for the health of the marine ecosystem; In addition, diving with sharks represents one of the main economic activities in his country, where 50,000 visitors generate an annual spill of more than $ 45 million dollars for shark diving.
He also affirmed that the government of Fiji raised during 2011 the amount of $ 17.5 million dollars in taxes generated by the activity of diving with sharks.
Jobs, education, social integration and environmental conservation are the main objectives of this strategic activity.
In Saving Our Sharks A.C. We share this vision and concentrate our activity in the construction of a sustainable relationship between the human being and the marine environment.
Analyzing the information coming from the most renowned diving destinations with sharks like Ningaloo Reef (Australia), Grand Bahama (Bahamas), Donsol (Philippines), Gansbaai (South Africa), Holbox Island (Mexico) and Gladden Spit (Belize) , we conclude that in Playa Del Carmen, Quintana Roo (Mexico), we have excellent natural conditions to make diving with sharks a fundamental activity in the sustainable development of the region.
Currently there are more than 40 dive centers dedicated to diving with sharks in Playa Del Carmen.
Our region is characterized by the arrival during the winter season (November to March) of the Bull Shark (Carcharhinus Leucas), one of the most interesting species due to its physical presence and its migratory status.
With an annual influx of more than 10,000 divers and with an increasing international demand, this activity represents for the municipality of Solidaridad, the great possibility of:
The preservation of this species and its natural environment.

Directing this economic benefit to the benefit of society

Create the conditions to integrate the population into the knowledge economy
The Bull Shark (Carcharhinus Leucas) is the APEX species of the reef, as the main predator can pose a risk to man, if proper precautions are not taken.
Some diving professionals in the Mexican Caribbean adopted safe practices and behaviors to interact with this species.
It is from this collective experience and before the need to establish a diving protocol with the Tiburon Bull, that the participatory workshops were started, exchanging information and integrating the recommendations of international experts, we made the first basic rules that constitute the starting point for the next Scuba Diving Practices Manual (Carcharhinus Leucas) in Playa Del Carmen, Quintana Roo.
BASIC STANDARDS FOR DIVING WITH BULL SHARKS (CARCHARHINUS LEUCAS) IN PLAYA DEL CARMEN: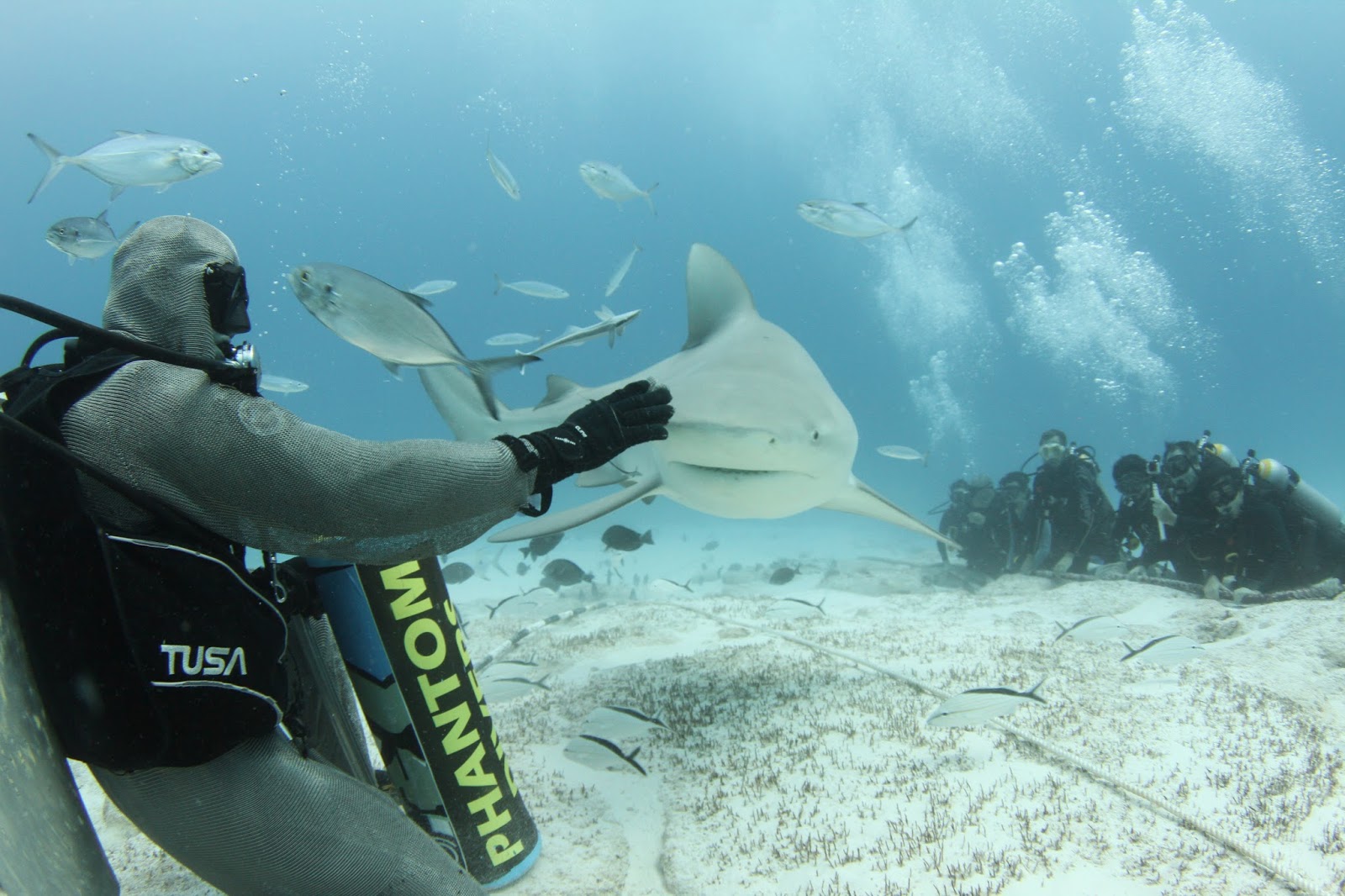 Charlie Estrabeau. Photo by Jorge Loria
Each place has unique characteristics and each shark its own particularities so it is essential to obtain the most information about the species that will be observed in diving considering its characteristics, its behavior in relation to the human being and the possible risks; It is also essential to know the climatic conditions of the place and the weather predictions for the day of diving.
I. THE SERVICE PROVIDER
to. Have experienced guides in diving with bull sharks and support guides.
b. Always have in the boat a complete kit of first aid, oxygen and radio or cellular.
c. Give a detailed and specific description of the type of diving to be done with the sharks; with attraction or without attraction as well as a clear emergency plan.
d. They should always go at least 2 guides per group.
and. Do not use harpoons or fish to attract sharks.
F. Keep the group always united and attentive to their indications.
g. Do not do DECO dives.
h. Respect dive times and do not enter the dive site until the other group has left.
i. Respect the designated areas of the attraction with bait and sighting.
j. Have a specific emergency and evacuation plan for this dive.
k. Position the divers so that the current could not divert the bait to the customers.
l. Do not mix with other groups.
m. Have the corresponding permits and insurance against risks.
n. Wear protective suits in case sharks are fed.
II. FROM THE TOURIST
a. Learn about the different types of shark diving; attraction with food or sighting.
b. Always go with a diving center specialized in shark diving and with an experienced guide in this activity and with a trained support guide.
c. Be an advanced diver (AOWD) or certified minimum with 30 registered dives that have not been more than 6 months since your last dive.
d. In addition to wearing a long dark suit, gloves, socks or boots, make sure that all your equipment is also dark in color and does not carry any extra or shiny accessories (notepad, buoy, knife, snorkel, etc.).
and. Follow the instructions of your specialized guide.
F. Do not accept to enter the dive site if another group is found performing the same dive, wait until it leaves.
g. Do not have equalization problems, to make a free and rapid descent.
h. Always stay attached to the group.
i. Do not touch, chase or disturb sharks or other marine animals.
j. Never carry food or try to feed the sharks.
k. If you have a camera keep it close to your body and for no reason extend your arms to take a picture.
l. Keep the arms attached to the body and not make sudden movements.
m. Do not touch or manipulate the bait
n. If the diving they chose does not perform any feeding, it is necessary to stay away from those who do.
or. Respect distance between groups and sharks
Remember that the only way to continue enjoying these wonderful encounters with sharks is to avoid accidents, there is no better way to prevent them than responsibility as a diver or guide.
This responsibility also includes the active participation and the economic contribution with the conservation programs of Tiburón Toro (Carcharhinus Leucas)
From Playa del Carmen, Quintana Roo, Mexico, Saving Our Sharks A.C. extend a cordial invitation to all diving centers and divers interested in living this experience in a responsible way towards and with the Bull Sharks (Carcharhinus leucas).
WE HOPE THE SEASON ENDED IN MARCH !!!!!
The post DEEP SPACE 124: Responsible and safe diving with the bull shark appeared first on Phantom Divers.